ATTENDANCE
Our school attendance target is to be above 96%
Attendance At Westfield Nursery and Primary School we strive to promote good attendance by actively encouraging the development of a positive, stimulated school environment where children, parents and carers feel welcome, safe and secure and where their individual needs are catered for.
Punctuality Doors open at 8:40 am and school starts at 8:45am for children in EYFS, KS1 and KS2. Children arriving after 8:50am will be marked as late. Register closes at 9:15am children will be marked as unauthorised after this time.
Absence Parents/carers are asked to notify school before 8:50am if their child is going to be absent. If a child is absent without a reason, parent/carer will be notified by text or telephone. Alternatively, if a child is absent from school and we are unable to make contact with the parent/carer a home visit will be carried out to determine the whereabouts of the child. If we are unable to locate a child this will then become a police matter.
Children who attend school regularly are more likely to:
Achieve better grades than children with poor attendance.

Achieve greater amounts of progress.

Have a better understanding of the world around them.

Become more resilient.
What is unauthorised absence? Only the Headteacher can decide if the reason given for absence is acceptable. If the Headteacher decides that the reason given for absence is unacceptable, the child will be deemed as unauthorised and maybe passed to the access and inclusion team.
Reporting A child's attendance record is published in the end of year report to parents and request of staff and relevant outside agencies at various times throughout the year.
Attendance is also closely monitored by the Governing Body.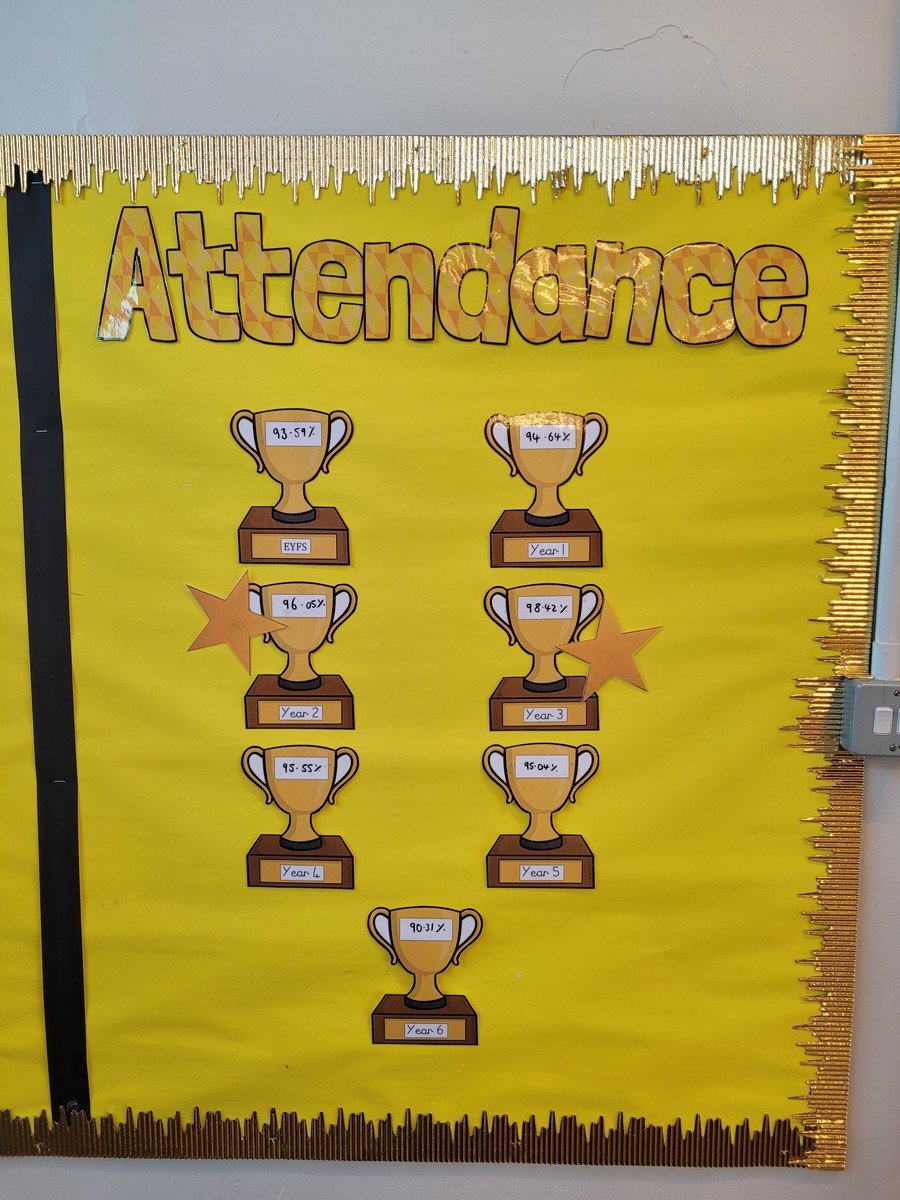 Every Friday we have a Gold Book assembly where the highest EYFS/KS1 class and the highest KS2 class are awarded with a non-uniform day the following Friday.
CONTACTS
Mrs Sarah Davies

Designated Safeguarding Lead/ Principle Learning Mentor
POLICIES
TERM DATES
HOLIDAYS IN TERM TIME
Below are letters that have been sent home with the children on the matter of taking holidays in term time. One has been issued by Cumbria County Council and the other by Workington & District Primary Heads Association.
ATTENDANCE FACTS
There are 190 days in a school year, which leaves 175 days to spend on family time, shopping, appointments etc.
CUMBRIA COUNTY COUNCIL GUIDANCE
Cumbria County Councils information on attendance can be found here.
Children who attend school regularly are more likely to:
Keep up with school work.

Develop good habits and important life skills.

Maintain friendships.

Gain better qualifications.

Have access to a wider range of opportunities when they leave school.

Stay away from harm.
What is regular school attendance?
Attending school everyday unless there is a very good reason for absence.
Getting to school on time.

Being present at school for both morning and afternoon sessions.
What does the law say about parental duty concerning children's education?
Parents must make sure that their children receive efficient full time education in school or elsewhere.

Once a child is registered at school, the parent must make sure that the child attends regularly.

Parents should inform the school of the reasons for any unavoidable absence on the first day.

Parents may request term time absence only in special or exceptional circumstances; this should be made in writing to the head teacher, giving as much notice as possible.
At what age do children have to start school and when can they leave?
Children must receive full-time education from the start of the school term after their fifth birthday until the end of June in the school year in which they turn 16.
What is unauthorised absence?
Only the headteacher can decide if the reason given for absence is acceptable. If the headteacher decides that the reason given for absence is unacceptable, the absence will remain unauthorised.
Parents can face legal and financial sanctions if their child fails to attend school
Fixed Penalty Notices to the amount of £120, this amount will reduce to £60 if paid within 21 days.

An Education Supervision Order issued by the family court.

Prosecution in a Magistrates' court.
ILLNESS
If your child is unable to attend school through illness please call school each morning 01900 874000 Option 1 and leave a message to let us know why your child is absent. Children do get short illnesses such as bugs and colds so there will be occasional dips in attendance, however we expect it to rise again and not continue on a downward trend.
If you do not make contact with the school to inform us of your child's absence we will follow our procedure outlined above in order to safeguard your child and yourself. More information can be found in the policies section of this page and also on our safeguarding page.
Below is a guide on whether to keep your child home from school, and if applicable the number of days, for more detailed information please visit Guidance on Infection Control In Schools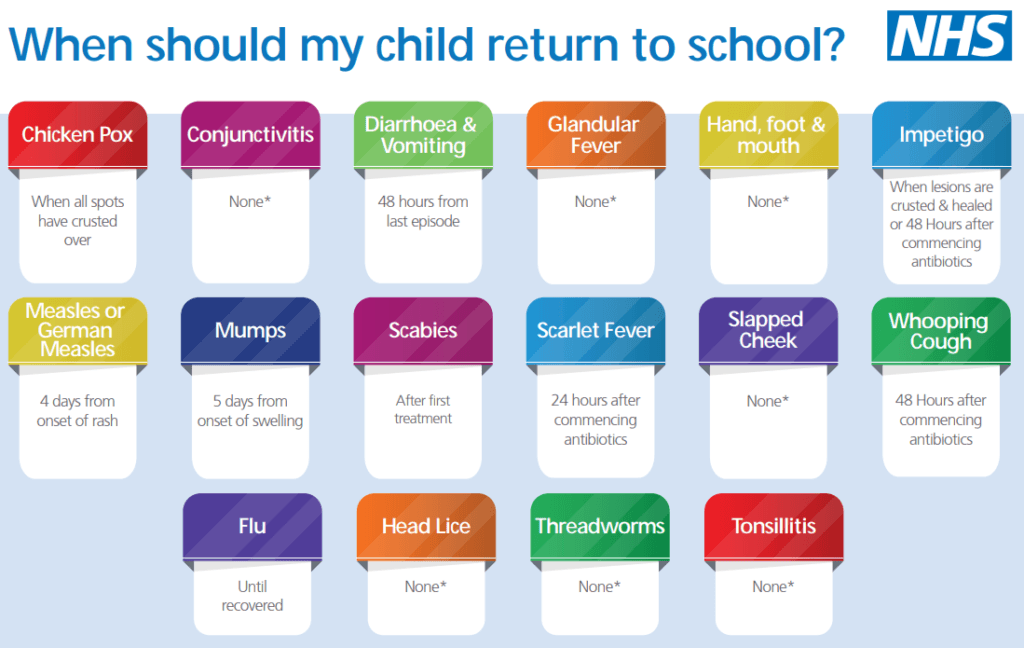 FACTSHEETS
Coronavirus COVID-19 - click to open
There is currently no vaccine to prevent COVID-19. The best way to prevent infection is to avoid being exposed to the virus.
The current advice is that if you have recently been to one of the affected countries or have any of the symptoms, you should self-isolate and phone the NHS 111 helpline for further advice straight away - please don't go to your GP, pharmacies, walk in centres or A&E.
Prevention is always better than cure, so, as with the flu virus, the most effective way for people to protect themselves from COVID-19 is to adopt good respiratory and hand hygiene to prevent the risk of infection and a 'catch it, bin it, kill it' approach to coughs and sneezes. As the situation develops guidance is updated daily.
Please also visit our newsletters page to see any publications we send our regarding this situation.
Please check your children's hair regularly and take them to the pharmacy if you require treatment, the whole family should be treated including any pets. Headlice is childhood ailment that is covered in the minor ailments scheme, and you may be able to get treatment on prescription.
Occasionally there are cases of Scarlet Fever and Chicken Pox in school at the same time, which can carry extra risks if you contract both at the same time. Public Health England have provided us with this fact sheet.