ADMISSIONS
We are very proud of our school and we welcome you contacting the school directly, should you wish to transfer your child to our nursery or school within a school year. We look forward to showing you around our school and answering any questions you may have about what we do.
At Westfield Nursery & Primary School we follow the Cumbria County Council admissions policy. Should you wish to apply for a place please see the following information.
To apply for a reception place at our school online please click here alternatively you can complete an SA1 Form and return this either to our school or to Cumbria County Council School Admissions and Appeals.
To transfer to our school you will need to contact School Admissions and Appeals at Cumbria County Council and complete an SA8 Form. More information can be found here.
If you need any help with this or would like to arrange a meeting with the headteacher to discuss your child's place then please don't hesitate to contact the school.
NURSERY
To apply for a nursery place at our school please complete an SA13 Form and return this to our school. All 3 and 4 years olds are entitled to 15 hours of free education, from the term following their third birthday. However at Westfield any child can attend from the day they turn three. Please contact the office for more information 01900 874000.
Some children are also entitled to an additional 15 hours, more information on the qualifying criteria on the 30 hours can be found here. If you would like more information, or need help applying for the 30 hours, please visit school where we will be able to advise you and discuss your options.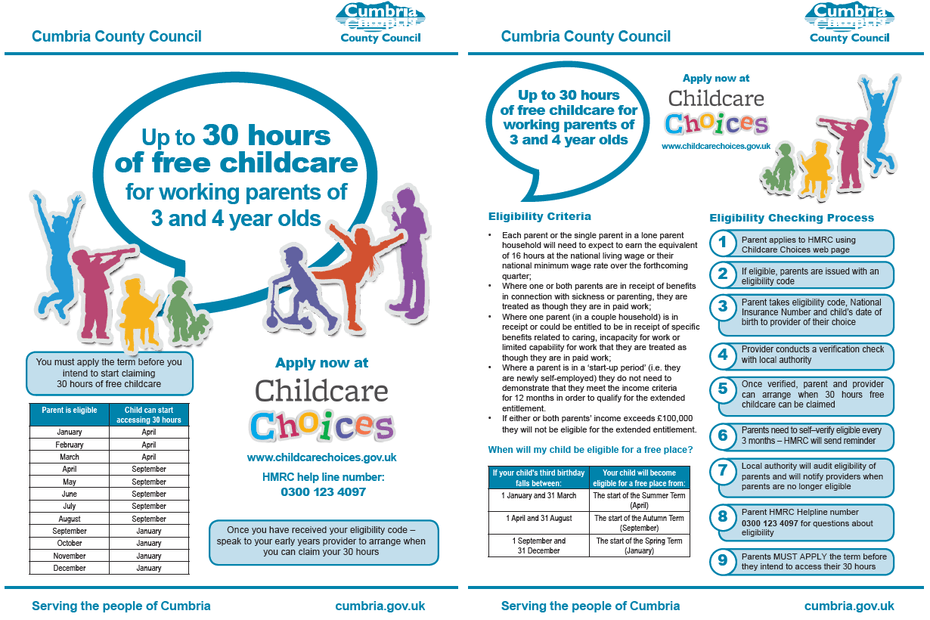 CONTACTS
Address:
School Admissions and Appeals
Children & Families Services
Cumbria County Council
The Lonsdale Building
The Courts
Carlisle
CA3 8NA
Email: school.admissions@cumbria.gov.uk
Tel: 01228 221582
If you intend to use the 30 hours from the start of next term apply now...